Again I had another post partially written – twice – and it never felt right to post. It felt empty, pointless, directionless….just like me right now.
This morning I had several lucid dreams and attempted to shift OOB with no success. I suspect I was already OOB which is why the exits were unsuccessful.
Prior to this, I had awakened at around 7am and heard someone say to me, "You know you've been OOB?" I dismissed it as a dream conversation fragment, got up, took my wonderful antibiotic (have to take on empty stomach 30 minutes before a meal) and went back to sleep even though I had just intended to meditate.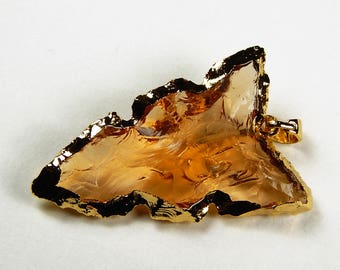 OBEs/Lucid Travels
My travels took me to several places. The first was my grandparent's living room where I was with my sister and BIL. I can't recall why I was there but we were talking about building a chicken (cowardliness) coop that would be shared by us and the neighbors. I had memories that were not associated with this lifetime but with some other life or place. For example, my grandparent's house was not located where it is in this life, but was in a subdivision. I believe what I was remembering were my astral memories, but I can't be sure.
Then I shifted into a crystal shop. I was standing in front of a dark haired woman who I recalled was a friend. In fact, I again had memories not at all related to this lifetime. In front of me were laid out many various crystal fragments. I knew I was selecting one for a friend and picked up a large, arrowhead shaped piece of Citrine. The woman told me it was a good one and I kept it, intending to make a necklace with it. She asked me for advice. "Where should I move to?" I told her, "I think Montana." She said, "Ah yes, I have been there. It is beautiful!" I said, "Yes, I use to live there, but…..I think it would not be ideal for your business. Perhaps Seattle would be better?" I then wandered over to a window and selected a black cord for the necklace I was making for my friend. I put the Citrine on it as I began to mull over memories of my friend.
My physical self heard sounds coming from my bedroom at this time. I knew they were sounds off and so ignored them but it brought me back to my sleeping body temporarily. I could feel my energy shift. It is like I settled down into my body but the two energies never completely merged. It was jumpy and sporadic but enough for me to register that I could go OOB. When I tried, though, the energy would not allow it and I must have drifted off again.
I soon found myself in my grandparent's house again, this time in the kitchen. Standing in front of me was my friend. I could see him clear as day. He was telling me something rather random and smiling, very at ease. I stared at him for a bit, shocked that he was standing there right in front of me. I had in my hand the Citrine necklace I made for him. I handed it to him, telling him, "I made this for you. I remembered how much you liked it (Citrine)." I remember thinking that Citrine brought abundance and I wanted that for him. He was pleased and smiled as he took it from me.
I asked him some questions about his life – Was he still living where he was before? Was he happy? Was he still doing what he was when we last spoke? He answered, confirming most of what I already knew.
The more we talked the more lucid I became. My physical/human consciousness was questioning the reality. Why are we in my grandparent's kitchen? Is this really my friend? No way, why would he be in my grandparent's kitchen? This has to be a dream!
The last thing I remember was telling my friend, "I miss you." I felt very down when I said it. I don't remember his response now but he was understanding, happy-go-lucky, and reassuring.
Eventually my questions pulled me out of the scene and again I felt my physical body and my physical senses began to take over. It was odd but something I have experienced before. My senses shift from astral to physical but not all at once. For example, my hearing will be like someone turns on the volume and then it turns it down again suddenly and repetitively. The same thing goes for my vision – astral to physical (which is dark). The vibrations are the same, on again, off again. So odd!
I shifted yet again and found myself outside my mom's house this time. I think I may have been a little kid because my vision was at a lower height than is my norm. I was talking to someone about a special school that only Kindergarten aged kids could go to. My middle son was mentioned and I remember hearing he couldn't go but my youngest could. My vision was very clear at this time and my physical self recognized I was OOB. We were walking through thick, brown leaves. There were so many that as I walked they came to my knees (remember that I am child-sized though) and I could hear them crunching under foot. I saw ahead of me my mom's yard and my vision stabilized. The blue sky seemed to be huge in comparison to myself. Recognizing my chance, I attempted to jump into the air and take flight. I did this just as a child said to me, "Come on!" As I lifted up it felt like an energy pulled me down and the message was, "No."
I returned to my sleeping body and my senses adjusted as did my energy. It was quick this time and I opened my eyes.
As I laid there my first memory was of meeting my friend. It was so real and I wondered if he was just a dream construct or if he had actually been there. As if in answer, the lyrics of a song popped into my head – I will be with you again….I will be with you again.
I heard the above a couple of days ago while driving. I had been in a strange mood, zoned out and feeling odd. This has been normal for me lately, especially when I drive. I had changed the radio station and caught the end of the song. The music lulled me almost into a trance and I remember smiling and enjoying it. It felt like someone was giving me a hug and I got a bit Homesick as I recalled certain memories. That is when I heard, "I will be with you again." It seemed like a message then, too.
For some reason when I heard the song this morning I thought it was from The Cure. Ha! Not sure why I thought that but it could be a message, too. Who knows. It also felt like not only was I being told, "I will be with you again" but that I was also saying this to someone. Like a simultaneous message exchange. I do believe there was an astral meeting and that my other Self has a full set of memories entirely separate from my physical life memories.
Other Dreams
I've had lots of dreams these last few days, and Kundalini, too.
In one dream I was heading home and had to make a sharp turn that immediately went uphill. It was my exit and came much quicker than I anticipated. When I took the turn I had to stop suddenly because there were three cars in a row that had run head-on into the curve. They were so mangled that all I could see were the taillights and bumpers. Their anxious drivers stood with a police officer (assistance) and I was told I could not pass. So I shifted the other direction but it was also barred, this time by water (emotion). I ended up taking the long way around to get to my destination.
The dream continued to my destination which was a "camp" (need to belong but independent also) of sorts for teachers. The camp looked like suburbia and when I checked-in I was told join the rest of the group. I was given a uniform and told that we would all eventually start to smell badly over time (issue needs to be addressed) because we were not allowed to bathe. Every day we would have P.T. and I recall being told where the nearby hospital (healing) was located in case we needed assistance in the evening when the camp was closed. Thing was, the hospital was also a camp and run by the very same people. I remember realizing the teachers were also doctors/nurses as was I.
Kundalini
Yesterday morning I had a nice Kundalini dream in which I was in a van with my husband. We were in the back and the van was driving itself. We were on the highway and, knowing we would be occupied for a while, I worried we would end up driving too far. I suggested we take the van to the lake and park but before I could go up front to take over driving the Kundalini raged and woke me up. I lingered in the bliss for some time after waking. It seems that now whenever my root activates all my upper chakras "sing" in the most wonderfully pleasant way. It is spectacular and I really, really hate that it always wakes me up! Grrrr!
I had actually asked for some kind of Kundalini experience that night before bed. There are two distinct types I experience now – the very sexual/bliss kind and the bliss/friendship/love/safety/Oneness kind. Both are wonderful in their own way and both teach me a great deal about myself and the world/this experience. "Bliss" is a part of both but there seems to be different types of bliss as well as various "new" feelings associated with the Kundalini. Since the human experience does not have words for these feelings I am always at a loss as to how to describe them.
Another Music Message
Yesterday morning, as I slowly woke from my dreams, a message came through very quietly. It repeated and grew louder and louder, eventually bringing forth a song as if to make sure I paid attention. The song was this one:
The part of the song that was repeating was, "Don't you, forget about me." The message that had been repeating and growing louder became obvious when the song was acknowledged. It was: Remember me.
A bit shocked and curious, I focused on the source of the message and felt a familiar energy, one I had not felt in a while. The more I focused the clearer the energy became and a visual formed in my mind.
My response was to enter into a conversation with this individual because I understood all at once the message and was tired of resisting.
It was a check-in. I knew the message "Remember me" was both a message to remember mySelf as well as a message to remember what had brought me to where I am now. To push away, ignore or deny all that made me who I am today was not helping me. I needed to remember it. All of it.
Of course I had to justify my reasons. It is painful, it makes living here on this planet that much more difficult, it triggers all kinds of beliefs/expectations/desires that I do not wish to reconcile for the enormity of their impact on me as a Human Being. It is easier to deny in myself all that relates to connection. To deny myself the positives in order to avoid the negatives makes complete sense.
But it was clear from my dream and all the dreams preceding it that the path of avoidance will get me nowhere. The path will be blocked and so will all of the others until I take the correct path.
The message was, "Remember it is my path, too. You cannot force from yourself that which is part of you. I will always be there. In your heart. In your mind. I am part of you as you are part of me." I softened a great deal when I heard this. It was like all my walls came down all at once.
Still Recovering
Similarly, last night prior to bed I was asking all sorts of questions – "Why" this and "Why" that. My main thoughts centered on the experiences I've had – the Kundalini being number 1. Why did I make it so that I Remembered so much in this lifetime? What is the point of Remembering if I can't do anything with it! How am I going to continue in this life now? With every single Kundalini experience I glimpse more of that which I Forgot. And with every regained memory of Self this human experience feels more and more alien to me.
Throughout I was receiving reminders of what I already Knew, things I Remembered on the path to where I am now. Things I have written in this blog…..like my Starseed origins, my connection to what appear to be E.T.'s, my memories of my purpose here, past life memories, heart connections/soul family, and the glimpses into my own and Earth's future. I pushed all of it out of my mind, though, because it does me no good to believe such things. It only serves to make me feel that much more alone, that much more separate from everyone else.
It felt like I would be in this in-between/void forever when I "looked" into my own future. Time stretched out forever in front of me like a road never-ending. I saw my children mostly grown up. I saw myself old and gray. I couldn't/can't help but be impatient. I want to get to "the end" already. But mostly I just want something to look forward to. After experiencing what I have thus far to think of the rest of my life being like it was before – it's unbearable. I have no way of consolidating the before and the after and that's what I need to do or else risk major repercussions (mental break being one).
I was told, "Give yourself a chance to recover." With that I was reminded of the end of 2016 and the intensity of the pain/hurt/despair among other things. Healing cannot be rushed. Considering how long I have already been recovering I asked in frustration, "How long is it going to take?" The answer I received was, "As long as it takes." UGH!
Sync
As if to remind me that my path here is to serve others, specifically my children, I was drawn to my youngest son's eyes. In the sunlight I noticed things I hadn't noticed before. So I took some photos. Aren't his eyes just gorgeous?
I also noticed he has inherited his father's heterochromia. If you look at the first photo you can see that the color amber/brown surrounds the pupil but the rest of the eye is blue. This is true of central heterochromia – two different shades of color. His dad has partial heterochromia – one of his blue eyes has a big, brown spot that takes up about 1/4 of the iris color.
Interestingly, the same day I was fascinated with my son's heterochromia, I was watching the show Limitless and there was mention of heterochromia! HA! Chance? I think not.
After my amazement wore off over the sync I just experienced, I realized again what I had recently been reminded of. There is purpose to my being here beyond what I am able to/allowed to see. Much of that purpose is related to the new generations. I have three very special children who will need my Knowing, my Remembering, to help them in life. It may not be apparent to me now but it will be, eventually. Even in writing this I am reminded of the Delores Cannon books.